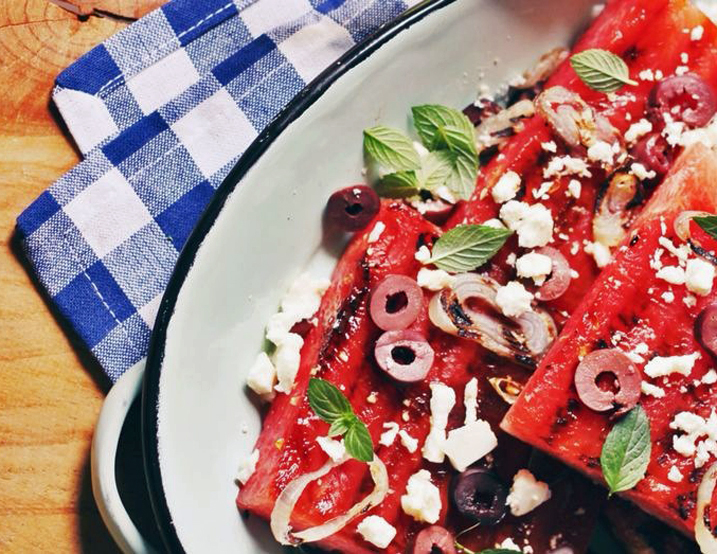 Grilled Watermelon Salad
---
My thing is watermelon, I'm a fanatic. Most people enjoy it cold because it's 92 percent water, so it's very refreshing. Well I cook it. And I cook it a lot, especially on the grill. I love how it gets along with salt and certain herbs.
Tip: If you own a panini press, you can make this entire meal sans grill. Make sure to blot the watermelon with paper towels to pull out the surface moisture and brush it with oil. Basically treat it like a steak or fish.
Grilled Watermelon Salad
1 medium watermelon (approximately 8 pounds)
2 medium shallots (thinly sliced)
1 tablespoon olive oil (divided)
1 tablespoon sherry vinegar
4 ounces feta cheese
4 ounces cured black olives (such as kalamata)
1/2 cup fresh mint leaves (choose smaller leaves)
Freshly ground black pepper (to taste)
Kosher salt (to taste)
Heat a panini press or gas grill to high.
Remove the each end of the watermelon. Stand the watermelon on either end and slice away the rind on each of the four sides, creating a solid rectangle of melon. Turn the block on its side and cut it into 6 squares, roughly 3-by-3 inches and 1-inch thick.
Toss the shallots with 1 teaspoon of olive oil and a pinch of salt. Grill the shallots for 2 to 3 minutes until softened and charred. Remove the grilled shallots to a small bowl and coat with the sherry vinegar.
Brush the watermelon in the remaining olive oil on each side. On a grill, cook until marked and warm, 5 to 7 minutes. On a panini press, cook for 10 to 12 minutes or until marked and warm.
Place the grilled square on a plate, top with the shallots, crumbled feta, olives and mint. Season with additional salt and pepper as desired.