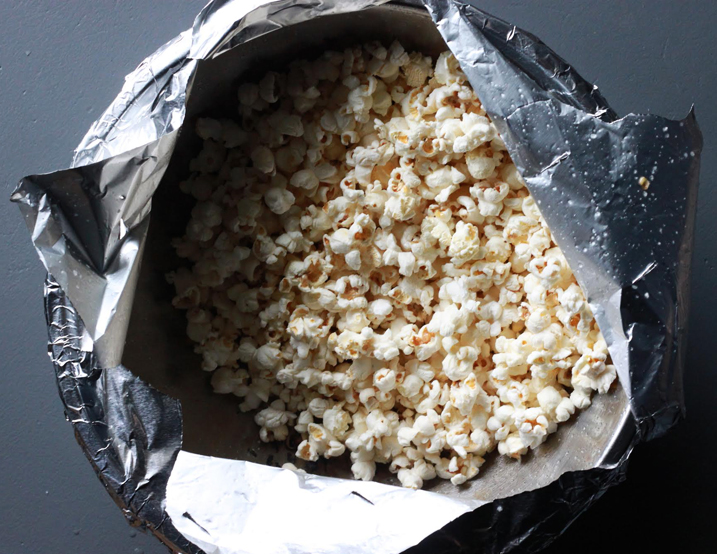 Darn Near Perfect Popcorn
---
If you're feeling culinarily adventurous, try stirring in 1-2 tablespoons of Furikake (see note below) before adding the butter.
Why does popcorn taste so darn good? Well, for a start: pyrazines, phenols, pyrroles, carbanols and furans.
Pert-Near Perfect Popcorn
2016-01-19 01:08:42
Ingredients
3 tablespoons peanut oil
3 ounces popcorn kernels
1/2 teaspoon popcorn salt*
2 tablespoons unsalted butter
Instructions
Put the oil, popcorn and salt in a 6-quart metal mixing bowl. Cover with heavy-duty aluminum foil and poke 10 slits in the top with a knife.
Place the bowl over medium heat and shake constantly using tongs to hold the bowl. Continue shaking until the popcorn finishes popping, about 3 minutes.
Remove the bowl from the heat and carefully remove the foil. Stir in any salt that is on the side of the bowl.
Melt the butter in a microwave oven. Slowly drizzle it over the popcorn while spinning the bowl. Serve immediately.
Notes
* Popcorn salt is ground very fine so that it will stick handily to the nooks and crannies o the popped kernels. If you buy it you're crazy. One cup of kosher salt goes into a food processor. And I think about 10 three-second pulses should perfectly smash this, or rather pulverize it, to the correct consistency.
By the way, Furikake is a rice/sushi seasoning composed of shredded nori (seawead), sesame seeds and other spices. It's found at most good megamarts, Asian markets and on the interwebs. I'm crazy about it.
ALTON BROWN https://altonbrown.com/